Published December 18, 2014
Tools for greatness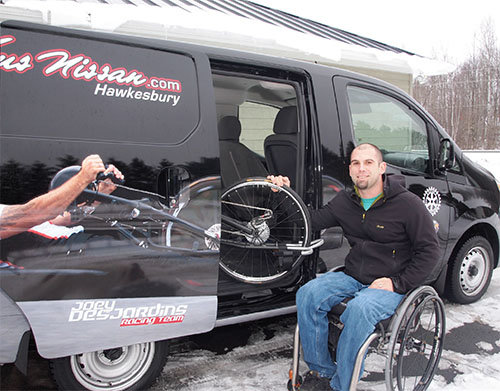 Hawkesbury | Paralympic athlete Joey Desjardins is overwhelmed by the support he gets from the community and his motivation is through the roof for his next races in Florida.
This fall, his training and transportation got a lot sweeter, courtesy of Rendez-Vous Nissan, who jumped at the opportunity to sponsor him with a modified vehicle, a NV200 compact cargo van.
"This is just plain awesome," said the athlete who lost the use of his legs after a motocross accident in 2006. "Now I can bring my bike without disassembling it all the time and the same goes for my wheelchair. The van also has a low-sitting floor, which is perfect for me. I just put everything in it and jump in the driver's seat."
When Rendez-Vous Nissan's owner Doug Kego learned about Joey's incredible story of determination, he definitely wanted to help the athlete in his quest for a spot on Team Canada. "In life, you often learn from yours and others' mistakes, but how awesome and inspiriting is it to learn from someone's thriving attitude and determination?", said Doug Kego. "At first, we helped him raise money for a new handcycle. But we wanted to do more and truly give him something that would make him as independent as possible. The vehicle is perfect for that, for training and real life situations."
Equipped with Sure-Grip hand controls for maximum safety, the van quickly became an asset to Joey Desjardins' routine.
"With my hatchback car, it was a hassle to always have to reassemble everything and it was time consuming," said the athlete. "Now, transportation isn't an issue anymore and I can concentration on my training."
Sponsored by Rendez-Vous Nissan, the Rotary Club and Hawkesbury Hawks, the van is Joey's for the next three years. With racing decals on the side, it will also be a promoting tool for the cyclist, who wants to make an impact at the Miami and Melbourne marathons in 2015.
"A lot of racers that are at the international level will be there and it will be an opportunity to feel the pressure of a big time competition and also one to show what I am capable of," said Joey. "The standard for Team Canada is around 35 kilometers per hour for a 15-kilometer distance and I'm up to 32 per hour. It's coming along and the support of the community is a big plus. I'm really grateful and can't thank everybody enough."
Last week, Joey Desjardins rolled on the ice of the Robert Hartley Sports Complex for the ceremonial faceoff before the Hawks-Colts game. He also met with the fans to discuss fitness, determination and how you need to conquer adversity to reach greatness.
"Joey has great aspirations and truly is an inspiration," said Doug Kego. "How great would that be if he becomes a champion? I know he will go far with his dream and we shall all learn from that."
This week Joey met with Canada's paracycling coordinator, Arnaud Litou, for a grueling fitness assessment. "I'm in the best shape of my life, but he pushed me hard to the limit!" said the athlete with a smile. "He's helping me transitioning until I find a high-performance trainer."
With winter knocking at the door, Joey is training more inside but will trade wheels for skis in the upcoming months to shake up the routine a little bit.
"I'm still in school at St. Lawrence College in Cornwall but, little by little, everything is falling into place for bigger things to come. I'm eying the 2015 Défi sportif road and beat the clock races in May, at the Gilles Villeneuve circuit in Montreal, where I will be able to rack up points and try for the standards. I still can't believe how supportive the community has been over the course of the last year and I wouldn't be where I am right now without the help of everybody. I'm grateful and I'm putting in all my efforts."
Article and Photos: Stéphane Lajoie
Date: 18 December 2014