Published March 1, 2013
The 2014 Nissan Versa Note: goes on sales summer 2013
The all-new Versa Note 2014 goes on sale at Rendez Vous Nissan starting June, 2013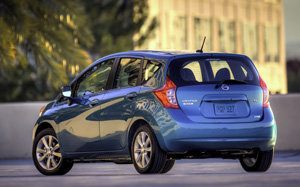 The all-new Versa Note 2014 goes on sale at Rendez Vous Nissan starting June, 2013. The Versa Note, the second-generation hatchback sub-compact will be launched in S, SL and SV trims
The all-new Versa Note 2014 goes on sale at Rendez Vous Nissan starting June, 2013. The Versa Note, The second-generation hatchback sub-compact will be launched in S, SL and SV trims – at a base price of $13 348. Like its sedan sibling, the Versa Note has a four-cylinder engine DOHC 1.6-liter and a system of double fuel injection, it has an elegant, scalable storage space and is equipped with it's own technology features.
Regarding technology, the Versa Note is outfitted with the NissanConnectSM Navigation System, which features all sorts of useful information for when you're on the road. For example, it can inform you of fuel prices, weather forecasts, and road conditions. It is also possible to obtain even more information through one of your Internet connected devices sing NissanConnectSM is compatible with Google®. Other available Versa Note technology also includes Hands-Free Text Messaging Assistant, GPS, Bluetooth® and a USB Port.
That's not all. The Versa Note is also equipped with exclusive technology in it's sub-compact category. The Versa Note is equipped with a first-in-class Around View® Monitor to allow you to park your vehicle with confidence. Four cameras help to create a clear overview of your surrroundings.
Regarding space, the Versa Note is unmatched : it provides 606 L, or 21.4 ft3 cubic feet of class leading cargo space. In terms of storage, the fold down rear seats with Divide-n-Hide adjustable floor, create a convenient loading platform, or drop the back seats for massive space. Despite the size of the Versa Note, the vehicle can still accommodate five passengers in its spacious interior.
The Versa Note Standard safety and security systems increase your safety and ease of maintenance of the vehicle. For example, the Tire Pressure Monitoring System (TPMS) will light up an icon on the dash when tire pressure is low.When you fill them, the Easy-Fill Tire Alert sounds a friendly beep of the horn when they've got enough air. Beyond that, the Versa Note is equipped with a Traction Control System, six standard Advanced Air Bag Systems, anti-lock braking system (ABS), a Brake Assist System and a Vehicle Dynamic Control (VDC).
On a side note, the Versa Note also wears Nissan's PUREDRIVE® badge, reflecting our commitment to create an eco-friendly lineup of low-emission vehicles.
Are you Interested? Schedule a Test Drive today!