Published March 1, 2013
The 2013 Reinvented Pathfinder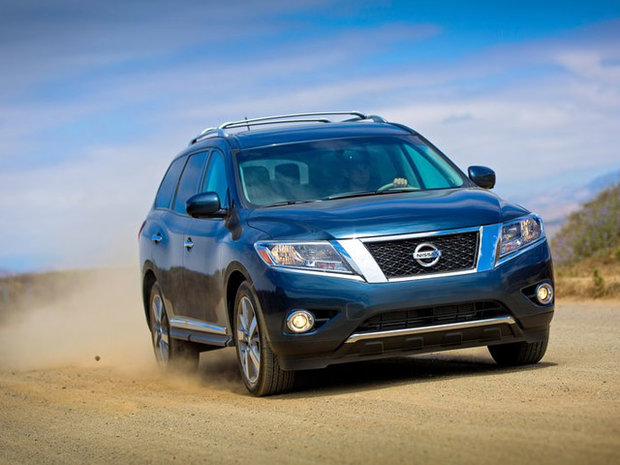 Nissan unleashed the all-new 2013 Pathfinder SUV, a complete makeover featuring a sleek, aerodynamically styled exterior, a premium interior, class-exclusive user-friendly technology and a new unibody platform and advanced drivetrain that helps it achieve best-in-class fuel economy while maintaining class-lead towing and off-pavement capabilities.
The all-new vehicle design sheds 500 pounds of mass compared to the outgoing model yet maintains the Pathfinder's SUV-ruggedness while delivering up to 7.7l/100km on the highway. With its blend of capability, including class-leading standard towing capacity of 5000 pounds, and modern amenities, such as a class-exclusive Around View™ Monitor, the 2013 Pathfinder is the next-generation SUV.
"Unveiling our next-generation Pathfinder is a major follow-up to the introduction of the all-new Altima sedan," said Al Castignetti, vice president and general manager, Nissan Division, Nissan North America, Inc. "With its bold new design, best-in-class fuel economy and family adventure capabilities, our dealers can't wait to share this new model with customers in their showrooms."
The 2013 Pathfinder's fuel economy has improved more than 26 per cent over that of the 2012 Pathfinder. Both the FWD and 4WD 2013 Pathfinder models lead their segments in fuel economy across the board.
City, highway and combined average fuel economy numbers are 10.8 (City), 7.9(Highway) and 9.5 (Combined) l/100km for the 4WD version, and 10.5 (City), 7.7 (Highway) and 9.3 (Combined) l/100km for the 2WD version. This significant increase over both the outgoing model's fuel economy as well as that of the competition was achieved primarily through a new, aerodynamic vehicle design, 500 pounds of weight reduction, reduced engine friction and the application of a class-exclusive, next generation Xtronic CVT®.
Also playing a significant role in the Pathfinder's excellent fuel economy is the fact that it is now one of the lightest vehicles in its segment, with the FWD model tipping the scales at a mere 4185 pounds. Even the 4WD Pathfinder weighs only 4326 pounds.
Truck-based SUV sales peaked in the mid-2000s and have declined steadily as consumer demands shifted to more refined, fuel efficient crossover SUVs. The 2013 Pathfinder is built with unibody construction, vastly reducing its weight by eliminating the fuel-penalizing mass of a traditional SUV's truck-based frame. In addition to making the Pathfinder a lighter vehicle, the new unibody chassis design increases Pathfinder's structural rigidity over the previous model. This improves ride and handling, while reducing overall noise, vibration and harshness, delivering an outstanding mix of responsiveness, refinement and ride comfort. The Pathfinder's rigid platform is also key to maintaining the trailer-towing capability expected from an SUV – the vehicle has a standard towing capacity of 5000 pounds, which is the best standard towing capacity in the segment.
Schedule a test drive today!