Published December 19, 2016
2017 Nissan Titan: bigger and better than ever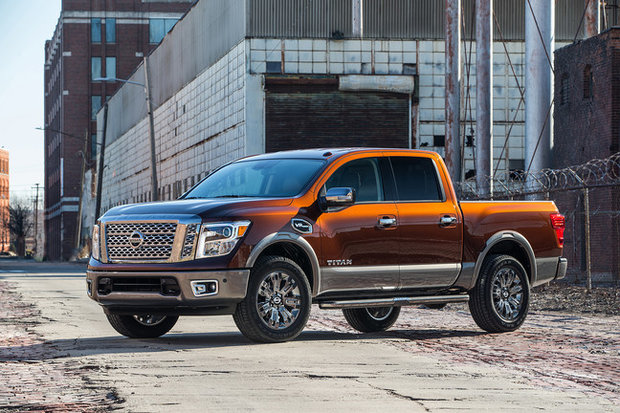 When it comes to pickup trucks, bigger is usually better.
When it comes to pickup trucks, bigger is usually better. That's how the segment has always defined itself and every new generation of a given model always pushes the envelope further when it comes to power and capability. That said, we must not forget that most pickup buyers also use their trucks to go to the grocery store or to bring the kids to school. Thankfully, when designing the all-new 2017 Nissan Titan, Nissan engineers made sure that Nissan's new full-size pickup would be as capable on the building site as it is on the highway going to grandma's house.
A ton of power in the 2017 Nissan Titan
The 2017 Nissan Titan is available in two versions. The first is called simply Titan, and features a 5.6-liter V8 engine that delivers 390 horsepower and 394 lb-ft of torque. This engine is paired with a seven-speed automatic and happens to be one of the most balanced powertrains in the pickup class. It has plenty of muscle, but it is also fuel-efficient and reliable.
Better yet, it allows the 2017 Titan to tow up to 9,730 pounds out of the gate without needing to add any optional towing equipment to the Titan's $44,650 base price. Payload is rated at 1,930 pounds.
Buyers looking for even more power will turn to the Titan XD and the optional 5.0-liter Cummins Turbodiesel V8 engine which delivers 310 horsepower and 555 lb-ft of torque. This rugged engine allows the Titan XD to tow up to 12,314 pounds while payload can reach 2,500 pounds. Starting at $46,250, the 2017 Nissan Titan XD is also available with the 5.6-liter V8 engine.
A V6 engine will eventually join the 2017 Nissan Titan lineup. As for the XD, it finds itself slotted between a traditional "1500" pickup and a heavy-duty truck. It has the capability of the latter, but with the refinement, price and everyday usability of the former.
2017 Nissan Titan: a truck designed for everyday life
The 2017 Nissan Titan is a truck that is designed for everyday life. On the highway or in the city, it is comfortable, quiet and its cabin is built using only high-end materials. Fit and finish is excellent, and regardless of which cabin you opt for, there is plenty of space and storage areas. This is a truck that was meant to be used in every situation, and buyers will like just how refined it is and how it drives.
Comme see for yourself today by booking a test drive at Rendez-Vous Nissan!