Published March 31, 2017
2017 Nissan Pathfinder: versatility is its middle name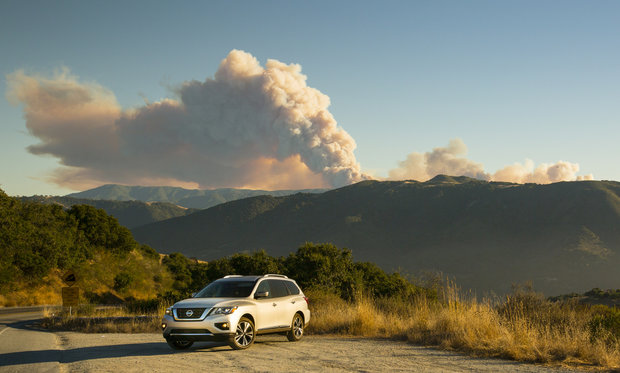 The 2017 Nissan Pathfinder is one of the most spacious and welcoming midsize SUVs in its class, and with thanks to some new tweaks and improvements introduced for 2017, it is even more stylish, safe and enjoyable to drive. If you are looking for the perfect family sport utility vehicle that is spacious without becoming a headache in the city, the 2017 Pathfinder just may be for you.
Completely redesigned back in 2014, the Pathfinder nevertheless gets some significant improvements for 2017 which include a more efficient engine that sees its power increase considerably. If you are looking for a spacious 7-passenger sport utility vehicle that will not let you down with its uncompromising reliability, take a look at the all-new 2017 Nissan Pathfinder.
Seven seats come standard in the 2017 Nissan Pathfinder
The 2017 Nissan Pathfinder is available starting at $ 32,498, and all versions of Nissan's midsize SUV are equipped with three rows of seats to accommodate seven passengers. Better yet, there's enough room for everyone's luggage given that the 2017 Nissan Pathfinder offers 453 liters of cargo space even with all the seats in place. Lower the third row of seats, and the cargo area can accommodate over 1,200 liters.
In addition to the seven seating positions, the 2017 Nissan Pathfinder offers plenty of equipment to make those long drives more enjoyable. Some versions feature a rear-seat DVD entertainment system as well as heated and ventilated leather seats, and all 2017 Pathfinder models offer three-zone climate control, ensuring optimum comfort for all occupants.
A rugged V6 engine for the 2017 Nissan Pathfinder
Under the hood, the new 2017 Nissan Pathfinder is equipped with a 3.5-liter V6 engine developing 284 horsepower and 259 pound-feet of torque. That's 24 more horsepower than the old Pathfinder. That power is sent to the front wheels in the base model, and to all four wheels in all other versions through an XTronic CVT continuous variable automatic transmission.
In FWD models, average fuel consumption is 8.5 liters per 100 kilometers on the highway, while all-wheel-drive models show an average fuel consumption of 8.9 liters per 100 kilometers. That's not bad at all considering that the new Pathfinder can tow up to 2,722 kilos, or 6,000 pounds.
Come and discover the all-new 2017 Nissan Pathfinder today at Rendez-Vous Nissan!