Published December 31, 2014
2015 Nissan Murano: A New Variation of a Popular Model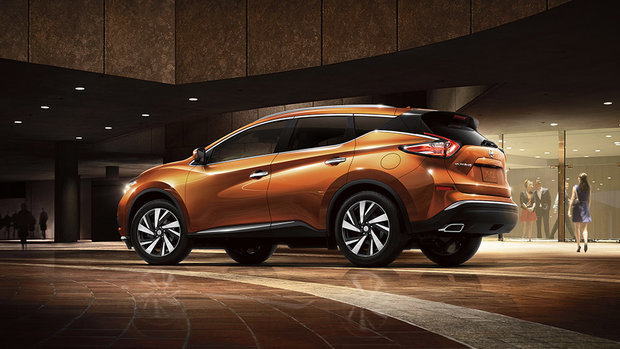 The Nissan Murano has always been a little unorthodox.
The midsize SUV is a solid performer, with the added bonus of a spacious and luxurious interior, as well as an eye-catching silhouette. Needless to say, the Murano is unique on the market, which appeals to those who are looking for something a little different.
That said, Nissan has several SUVs in its collection, and to maintain the popularity of the Murano, the Japanese manufacturer had to offer a new generation of the model in order to remain competitive. The all-new Nissan Murano is a model with a more dynamic style that is just as original as the first model.
Sportier. That's the best way to describe the stylish silhouette of the new 2015 Murano. With its muscular appearance, flowing body panels, large size, and unique floating roof, the Nissan Murano is still as distinctive as the previous generation, but with a more modern and striking silhouette.
Inside, the Murano has a modern design and lots of space. The seats are comfortable, and the ample legroom and headspace in the front and the back is well beyond average. The center console is contemporary and the dashboard is quite luxurious. If you're looking to impress passengers while traveling in comfort, the Murano is no doubt the perfect vehicle.
In terms of equipment, the 2015 Nissan Murano has a lot to offer. Leather seats, heated and ventilated seats, heated steering wheel, BOSE premium audio system, 20-inch wheels, a panoramic sunroof, a navigation system, and much more is waiting for you with this impressive midsize SUV.
Under the hood, the 2015 Nissan Murano is powered by a 3.5 liter V6 engine with 260 horsepower and 240 lb-ft of torque. This engine is paired with a continuously variable automatic transmission to promote fuel economy. Front-wheel drive comes standard, while other versions are Series AWD. Regarding security, a wide range of active safety features are also available.
More elegant, more spacious, and more advanced in terms of technology, the brand-new 2015 Nissan Murano has quite a bit to offer. Come and try it today at Rendez-Vous Nissan!