Published December 31, 2014
2015 Nissan Micra: The Return of the Ultimate Subcompact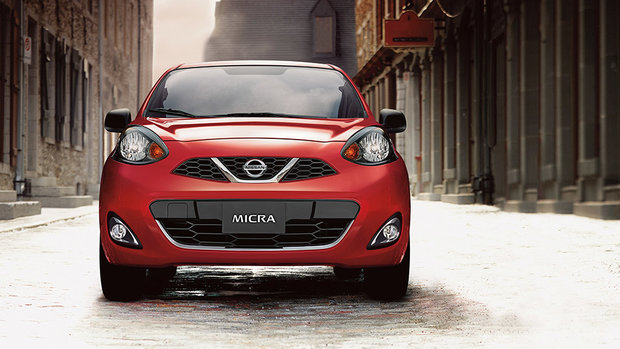 The Nissan Micra disappeared from the Canadian market for the past 20 years, but it is back in full force this year with a starting price below $10,000, making it the most affordable model on the market.
Better yet, the Micra is genuinely fun to drive and considerably economical. As an added bonus, the Micra's spacious interior makes you forget that it's a subcompact car.
There are several versions of the Nissan Micra. Of course, there is the popular Nissan Micra S, the model sold from as low as $9.998 before taxes and preparation fees. Available exclusively with a manual 5-speed transmission, the Nissan Micra S also offers a spacious interior like all versions of the Micra.
In reality, the Micra is the perfect car if you're looking for an agile model that is capable of sneaking around town or doing errands. The rear seat splits 60/40 to allow for additional cargo space. For sportier car-buyers, know that it is possible to fit golf bags or hockey equipment in the back of the Micra.
Under the hood of the car, you'll find a four-cylinder 1.6-liter engine that produces 109 horsepower and 107 lb-ft of torque. On the road, this engine offers more than acceptable performance for a car of its type, and the Micra's power exudes a lot of confidence on the highway. Also, the vehicle immediately puts the driver at ease as it responds quickly. In addition, the suspension is well calibrated and used to taking a curve smoothly. It's also impressively silent for a car of this class.
Other versions of the 2015 Nissan Micra, namely the SV and SR, offer many options if you want a little more luxury. The Bluetooth phone system, cruise control, air conditioning, reversing camera with multiple angles, 16-inch wheels with sporty style, and power windows in particular are available in either of these versions. There is also a new version, the Nissan Micra Krom, that has a very distinctive style that is sure to be noticed on the road.
For an economical subcompact car that is fun to drive, reliable, and spacious, the 2015 Nissan Micra is a very interesting choice. Come and try it today at Rendez-Vous Nissan!