Published April 7, 2013
2013 Nissan Sentra – Comfortable and quiet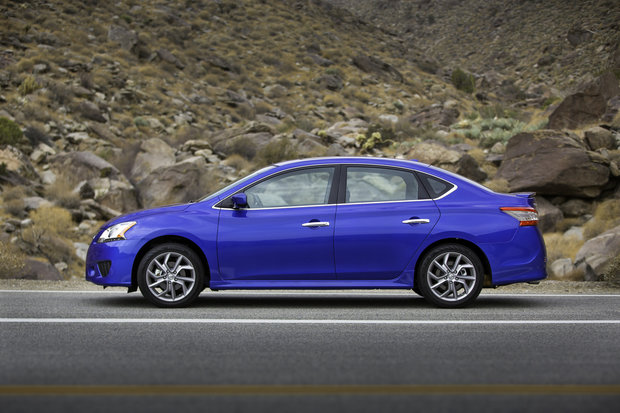 The previous Nissan Sentra had difficulty building a solid foundation in the crowded compact sedan category. It wasn't a bad car by any means, but it was lacking that little something that would have allowed it to separate itself from its main competitors.
It wasn't a bad car by any means, but it was lacking that little something that would have allowed it to separate itself from its main competitors.
This year, Nissan introduces a brand new Nissan Sentra that is more refined and thoroughly restyled such that it now has unique visual identity that should enable it to stand out from the crowd.
A small Altima
The overall style of the 2013 Nissan Sentra shares many elements with the brand new Nissan Altima. Of course, the Sentra is shorter and more compact, but the front grille, headlights, and flow of the body seen from the side bears a strong resemblance to Nissan's midsize sedan.
The 2013 Nissan Sentra is larger than the model it has replaced. We notice this fact as soon as we sit inside the new Sentra which now offers improved leg and head room front and back. The trunk is by far the largest of all Asian compact cars with 428 liters of cargo space.
Inside
The 2013 Nissan Sentra offers its driver a luxurious interior and provides a rather relaxing drive. The Sentra is assuredly one of the most refined compact vehicles on the market with its beautiful interior styling, comfortable seats and elegant dashboard.
The interior is modern yet does not go overboard like some other Japanese brands. Our test vehicle, a fully-loaded SV model, offered high-quality leather seats and wood panels that, although were not real, had no tackiness about them whatsoever. The centre console is functional and easy to learn, and uses quality materials and excellent workmanship in its construction.
Our test vehicle was equipped with a navigation system, rear camera, and keyless start with push-button ignition as well as dual-zone climate control. In other words, the Sentra knows how to pamper its owner!
The new Nissan Sentra is one of the quieter compact sedans that I have had the opportunity to review. It offers a relaxing ride that takes you from point A to be point B with absolutely no drama and with complete serenity. The suspension does a good job at camouflaging the numerous bumps and cracks of our wonderful roads, while the well-bolstered front seats remain supportive and comfy even after hours of driving.
More fuel-efficient, more powerful.
The 2013 Nissan Sentra is offered with a new 1.8 liter, 4 cylinder engine that delivers 130 horsepower and 128 pound-feet of torque. It can be matted to a 6-speed manual transmission or Nissan's new generation Xtronic CVT transmission. With the latter, the 2013 Nissan Sentra' average fuel consumption of 5.8 liters per 100 kilometers is better than the Civic, Corolla, Elantra, Mazda3 or the Chevrolet Cruze.
The 7th generation of the Nissan Sentra is without question the best iteration to date. It offers more room and a more refined ride than the previous model; while at the same time offering more power yet better fuel-efficiency. This compact Nissan is now unique enough to stand out in the compact car segment, which should help it better compete with some of the category's heavyweights.
Contact us today or come try the 2013 Nissan Sentra for yourself by booking a test drive online!